Shredded Mushroom Carnitas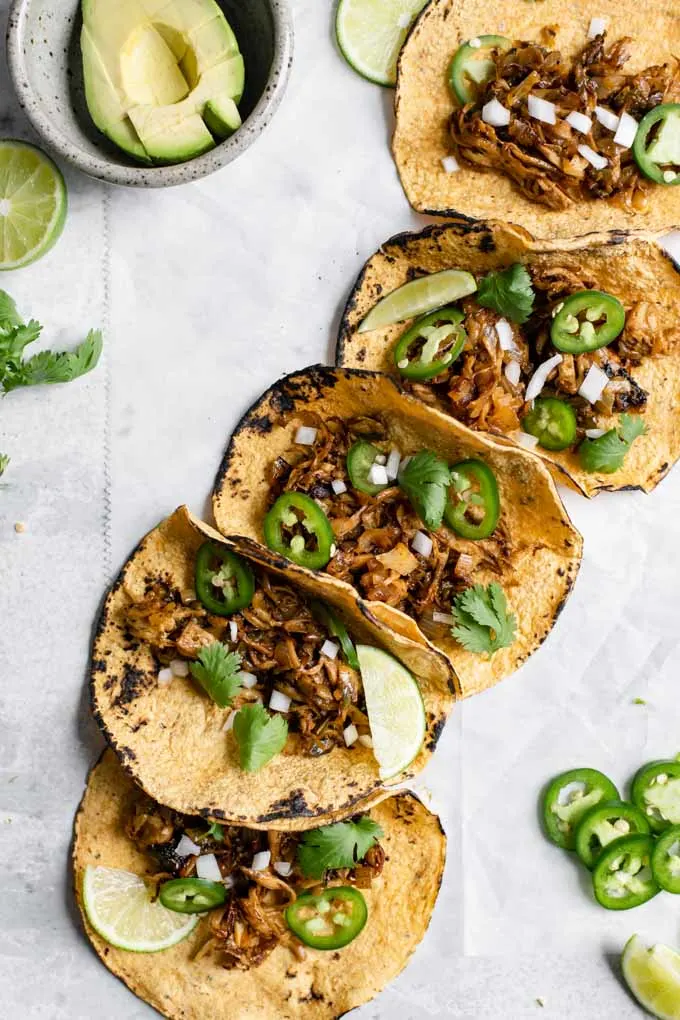 10 oz oyster mushrooms (5-6 large mushrooms)
2 tsp dried oregano
1 1/2 tsp ground cumin
1 tsp ground coriander
2 tbsp olive oil, divided
1 small white onion, small dice
4 garlic cloves, minced
1 jalapeño, diced (optional: deseed for mild heat)
1/2 cup fresh squeezed orange juice, 1-2 oranges
1 tsp vegan worcestershire sauce (optional)
salt and pepper to taste
Instructions
Preheat the oven to 400 ºF and line a baking tray with parchment paper or a silicon mat. Trim the ends of the oyster mushrooms and shred the stems and caps between two forks.
Toss the shredded mushrooms in the oregano, cumin, coriander, 1/4 tsp salt, black pepper to taste, and 1 tablespoon of olive oil. Spread evenly over the lined baking tray.
Bake for 15-20 minutes at 400 ºF until the mushrooms are chewy with some crispy ends. Stir halfway through for even cooking.
Heat a large skillet over medium-low heat and add the remaining tablespoon of oil along with the onion, garlic, jalapeño and a pinch of salt. Sauté until soft, translucent and lightly caramelized, about 8-10 minutes.
Add the baked mushrooms, the orange juice, and vegan worcestershire sauce (if using). Salt and pepper to taste. Sauté until the juice is absorbed and sticky, stirring just once or twice to allow the mushrooms to crisp on a couple of sides, about 5 minutes.
---